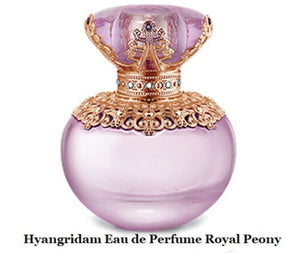 The Last Beauty Ritual
  Perfume - The longest scent lasts 6 to 7 hours on average.
  Eau de perfume - A little lighter than Perfume, lasting about 5 to 6 hours.
  Eau de toilette - The Scent lasts 3 to 4 hours.
  Eau de colonge - The lightest type of perfume and lasts 1 to 2 hours comfortably.
 ## The History of Whoo Hyangridam Therapy Eau de Perfume Royal Peony 
  Peony Bud, the song of eternal love from the royal bouquet of the Queen, it begins with white Petal's Top notes, adding to the delicate depth of the peony petal, violet and rose's heart notes in a romantic and elegant scent.
   Sweet Vanilla and Musk's base notes then wrap up warmly, giving you a loyal yet sophisticated floral scent.
 *  Hyangridam 5-Spot: Perfume is generally applied on the areas where the purse is beating well enough to emit the fragrance. Apply Hyangridam on the total 5 areas of the body including wrists, behind ears and in the middle of both collarbones below the chin, where one can smell one's own fragrance best, because Hyangridam is the perfume for yourself that calms and relaxes your own stressed-out, exhausted soul and body, not the perfume that delivers the fragrance to other people. That is characteristic of Hyangridam.
* Presentation: Fold the loop attached to the container in half and put it on a bag decoratively, or remove the loop and put the container into the inserted special pouch to carry and use. 
※ Direction: Take the product swirling 3 or 4 times with the middle finger and gently spread over the areas where the purse is beating, such as wrists, behind ears and in the middle of both collarbones. Apply at any time you want the fragrance.